Aug. 27.
The Zoological Museum & Kunstkamera. A sampling of the wonders we saw today:
A giant's skeleton

An entire blue whale skeleton
An infant preserved in formaldehyde with one cycloptic eye, more than 250+ years old
An actual wooly mammoth, discovered in the Siberian ice pack in 1903
Birds the size of a quarter
Birds the size of my whole self!
Skeleton of siamese twins
An Inuit coat made of whale intestine
Russian genetics really favor the men in this country. I have seen a lotta good looking Russians, yo.
Swan Lake at the Alexandrinsky Theater. Exquisite and utterly magical. The prima ballerina was so graceful, it was a joy to behold. Her male counterpart was powerful, making mighty leaps several feet from the stage. The costumes and sets were exactly what I would want for my ideal production of Swan Lake.
Aug. 28.
Round 2 of Hermitage. I should re-read my basic art history text book again, this time cover to cover.
How have I never heard of Christina Robertson?! Must do some research when I get home.
I am convinced the two most quotable movies of all time are "The Princess Bride" and "Indiana Jones and the Last Crusade." Or maybe just for my family.
Jan Provoost,
Virgin, God-bearer
.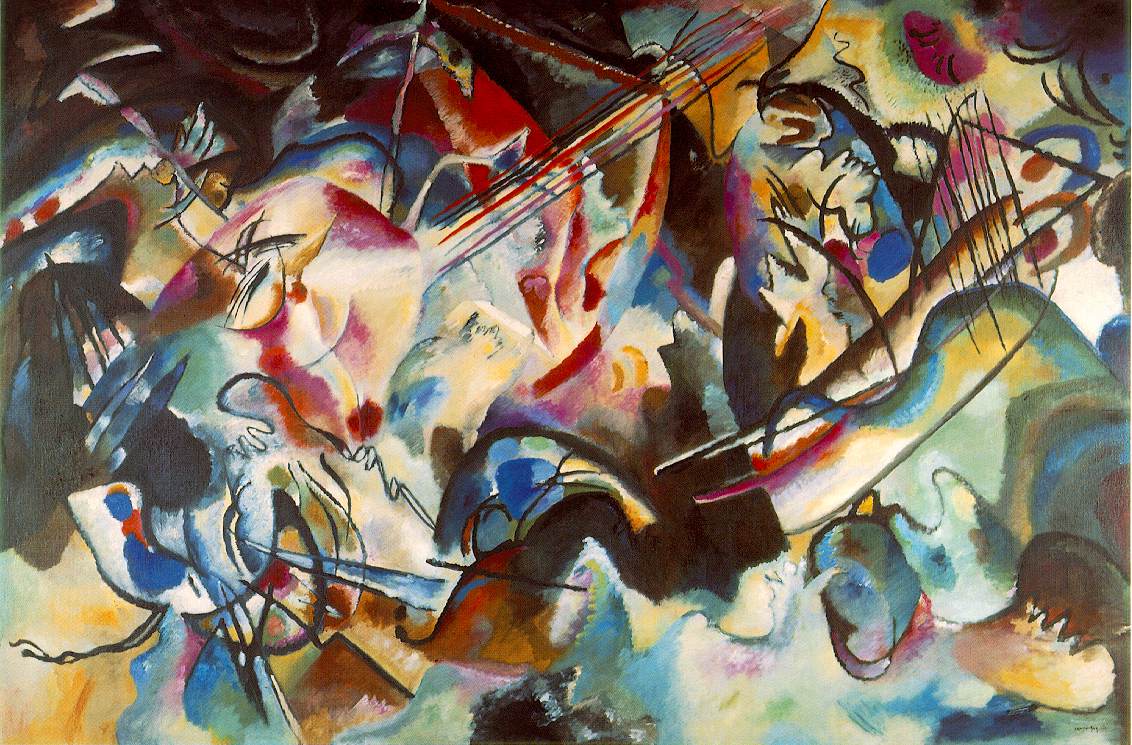 Wassily Kandinsky,
Composition vi
, 1913
People who say "My kid could paint that" as a critique of Picasso, Matisse or Kandinsky, are determining the value of art solely on technique, not considering composition or inspiration. We all breathe, but some learn to hold their breath to pearl dive. Did you have the idea for that composition? No. The desire? No. But they did! What of the philosophy behind these paintings? The zeitgeist?!
My favorite painting at the Hermitage: Lucas Cranach the Elder's
Madonna with Child with Apples
, 1520-1530. Incredibly lovely. Got a print of it.
Saw some teeny tiny wooden triptychs, carved so delicately you'd think a breath of air could damage them.
Got really excited about the tapestry series
The Virtues
, Flemish 15th century. Wish I had known about these tapestries when I was writing my thesis.
Nearly all of 19th century Romanticism can be summed up in Colosseum by Night, Franz Ludwig Catel.
The importance of mass-produced oil paint in tubes cannot be overstated in the history of art.
Holy crap they have hobbit armor.
Aug 28. Russian Museum - housed in a lovely neoclassical palace painted yellow and white. A grand staircase. Wish I'd read the Russian fairy tales before I came here. Favorite painting: Ilya Repin, Sadko, 1876.
St. Petersburg has always been a university town, and it give the city a lively atmosphere at night. Lots of night clubs, all-night cafes, groups of walkers along the canals at all hours, lovers kissing on bridges. Its all exhilarating. There is definitely an edge too, most obvious with the motorcycle gangs. Groups of 5-10-20 motorcyclists roar down Nevsky Prospekt at all hours, especially Saturday night. There are also loads of street musicians. I've heard hipster electric guitar boy bands, a rapper with a heart-thudding sound system, girls singing traditional Russian songs, a solo saxophonist, and a violin duet. And can I say rapping in Russian sounds downright scary?!
Aug 29.
Taxi ride at 3:00 am to catch first flight to Paris. The taxi driver was the same one who delivered us from the airport to the hotel. He has his radio tuned to 'Sappy Love Songs from Around the Globe,' which is funny because I can't even imagine him doing a two-step shuffle.
Charles de Gaulle airport. I only have an hour here. There is a very real temptation to NOT board the flight to Minneapolis. Can I just say it physically pains me to be so very close to a place I love and not get off?!?!
Now on the last flight, heading to Salt Lake City. I am happy to see my littles and give them hugs and kisses, and get a great big bear-hug from Trevor. But I'm sad the adventure is over. Sad to return to a hot, dry desert, driving kids home from school, homework, cooking, dishes, diapers...I find joy in domesticity, but it is work. A lot of work - all day, sometimes all night, monotonous, often obnoxious, loud, demanding, Disney-Junior-infused work. I mean, how excited can I be? I
loved
having a week with no expectations. Nobody asked a thing from me. No one interrupted my reading. I didn't have to clean up another mess in the bathroom, the carpet, the kitchen.
I actually got time alone! I wasn't in a hurry, I didn't have to coax anyone to eat vegetables, I got to eat breakfast, lunch and dinner when it was still warm, and I didn't have to clean up spills. Not a minute of this trip was wasted on me. I slept soundly every night with no feeding bags, Eloise retching, Hazel wetting the bed, or Jo and Mille crowding me in my bed and stealing my pillow. I didn't even
move
when I went to bed in St. Petersburg. It was heaven. Can anyone blame me for being sad to come home? I wish I lived in Europe, was European, and leaving makes me sad. I wish I was more free. It was exhilarating using parts of my brain trying to recognize Cyrillic letters, listening to Russian and that thrill when you hear a word you understand!
I follow my passions as best I can, but the necessity of daily work is soul-crushing. I know this is a 'chapter' in my life that everyone assures me will pass quickly, but its been 6 years already, and I have
so many more
with Eloise. She still doesn't eat sufficiently orally. I have to work crazy hard with that.
I'm grateful I got to get away. It was lovely to feel like a woman - independent and curious. I got to wear my high heels and hear them clack along a metropolitan European city. Folks I met didn't know which language to use first - Russian? French? English? I made friends with a worker at the Hermitage. I asked him where he would've guessed I was from. He answered, "After you talked I knew American. Before you spoke? No idea. France? England? Russia?" Of course that pleased me no end. Sometimes I feel like I must look like a cookie cutter Mormon mommy. There's nothing wrong with that, but its not who I am, and I don't want it assumed of me. Its hard to feel like a smart, attractive woman wearing clothes covered in baby snot and spilled milk.
Now its back to my fairly uninviting reality. I mean, when I get home 2 days later I'm bringing Eloise to the hospital for a dilation. They are awful ordeals, and we've done more than I can remember. I better get these tears under control before I attract the airline hostess's attention...
I've been home a week now, and it feels like St. Petersburg was a dream. It's been an excessively difficult week. Eloise's dilation went alright, but she handled it badly afterward. She's still not acting normal. The day after she had an absolutely horrible blue spell that I'm frankly surprised she survived. I don't exactly know why, but Amelia was an absolute basket case her first week of school. She threw up in the trash can at school, and bawled until I picked her up, every day. There was a problem with my kids starting French this year because of district-wide policy changes, and they can no longer attend Madame Bois' class. This caused me a lot of tears and a meeting with the principal. Every night was interrupted with Eloise gagging and retching on her own spit. It has been completely insane. And when Millie told me, "I cried every night you were gone. I missed you SO MUCH. Did you cry because you missed us, mom?" I had to tell a bald-face lie. "Yes, I missed you every minute."